Liposonix Westchester
LIPOSONIX
Many people struggle with losing that last inch of abdominal fat, even after otherwise having reached their fitness goals with diet and exercise. Patients seeking an alternative to the more drastic measures of surgical liposuction have found non-invasive LipoSonix to be an inviting option.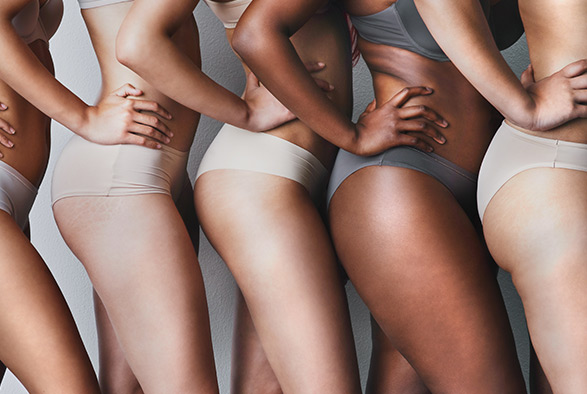 LipoSonix® is an FDA-approved, non-surgical procedure that utilizes ultrasound technology to dissolve the subcutaneous fat in the abdominal area. Ultrasound waves will penetrate through the skin layers to the fat, destroying fat cells while leaving the skin unharmed. These ultrasound waves are calibrated to disrupt fat cells while leaving important muscle, nerve, and connective tissue unharmed. The resulting fat will be disposed of by the body by its natural metabolic processes over eight to twelve weeks following the procedure; about an inch of fat will be gradually melted away from the affected area. This fat will be permanently removed from the abdominal area, and there is no chance of bumpy, unsightly fat deposits forming due to the procedure. A more toned, shapelier waist will emerge, achieving the patient's desired results for a more attractive figure.
Ideal candidates for LipoSonix® are patients who are otherwise in good health, have a body mass index (BMI) of less than 30, and have about an inch of fat to pinch in the area to be treated. LipoSonix® has been shown to be a great alternative to surgery for patients who are at their ideal body weight but whose abdominal fat has not responded to diet and exercise. Many patients find LipoSonix® to be a complementary procedure to the results they have already achieved with traditional liposuction or an exercise regimen. Typical results for most patients after one procedure are about a one-inch reduction in the waistline, which is equivalent to one pants size.
The in-office procedure takes about 30 to 60 minutes. The LipoSonix® machine will be placed on the treatment area, where it will commence emitting ultrasound waves. The machine gives doctors a high degree of control over the intensity and location of the treatment, allowing the procedure to be customizable for each patient. Most patients experience only mild discomfort during a LipoSonix® session, reporting a prickling or tingling sensation; no anesthesia is needed as the procedure is non-surgical. Patients resume their daily activities immediately after the procedure, as the treatment is minimally invasive. Common side effects after LipoSonix® include redness, swelling, bruising, and discomfort, but these effects will subside after the body heals.
LipoSonix® should not be considered a replacement for liposuction; patients who have a significant amount of fat to lose may find that traditional liposuction will better provide them with the results they desire. The experienced doctors at Advanced Dermatology will be able to determine whether LipoSonix® is the correct solution for a patient after a consultation, and provide realistic expectations as to achievable results. The procedure can be done at any of their numerous locations, including Summit, NJ, and Westchester County in NY.
We Pride ourselves
on Patient Accessibility
With 50+ locations conveniently located throughout New York City and New Jersey, a top-rated dermatologist is just around the corner. Click below to find the office nearest you!
FOR MEDICAL APPOINTMENTS CALL 888-747-5273
FOR COSMETIC CONSULTATIONS CALL 855-793-2868
Book Online
100+
State-of-the-Art Lasers and Devices
Emergency Appointments Available
50+
Highly Trained Providers
50+
Multi-specialty office locations for patients' convenience