Liposonix Summit, Union County, NJ
LIPOSONIX SUMMIT, UNION COUNTY, NJ
Diet and exercise definitely take off pounds, but they don't always remove the fat from one's body. After all their hard work dieting and exercising, some people still struggle with stubborn sections of fat that just won't budge. Years ago, plastic surgery was the only option to correct such areas of concern, but its invasive nature, steep costs, and lengthy recovery period, excluded many. Today, healthy individuals struggling with stubborn areas of fat on their body can often achieve their goals through minimally-invasive fat removal methods. One such option is Liposonix, which uses high-intensity focused ultrasound energy to eliminate subcutaneous fat without disturbing surrounding skin.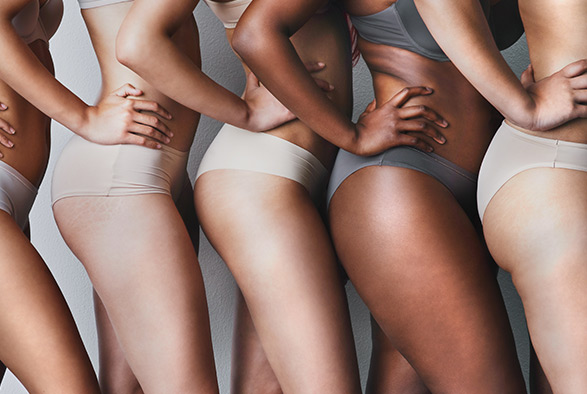 Advanced Dermatology, PC, with offices in Summit, Union County, and elsewhere in the New York/New Jersey area, is proud to offer Liposonix. Our board-certified dermatologists have completed extensive training in Liposonix and have successfully performed many cases. Since we own our Liposonix device, we have had the opportunity to perform significantly more cases than practices that rent their device once every few weeks. If you are considering Liposonix in Summit, NJ, you will consult with one of our dermatologists to determine whether you are a suitable candidate.
During your Liposonix  consultation, your Summit dermatologist will examine you and review your medical history.  To qualify for Liposonix, you must be in good health, have a Body Mass Index (BMI) no greater than 30, and be able to pinch an inch of fat on the area(s) for which you are seeking treatment. In the event that you do not qualify for Liposonix, you may qualify for another non-invasive fat removal treatment which we offer.
Your Liposonix treatment will be performed in the comfort of our Summit dermatology office. Your dermatologist will use a surgical pen to mark your treatment areas and the Liposonix device is passed around the those areas. If you experience any discomfort during treatment, notify your dermatologist, as he or she will be able to adjust the intensity of the ultrasound. A typical Liposonix treatment lasts about an hour, and you will be able to resume regular activities immediately afterwards.
If you are interested in learning more about Liposonix, contact us today at 855-501-6687 to schedule a consultation. We look forward to meeting you.
ADDITIONAL LIPOSONIX LOCATIONS
For the convenience of patients outside of Briarcliff Manor, we also offer Liposonix elsewhere in New York and New Jersey:
We Pride ourselves
on Patient Accessibility
With 50+ locations conveniently located throughout New York City and New Jersey, a top-rated dermatologist is just around the corner. Click below to find the office nearest you!
FOR MEDICAL APPOINTMENTS CALL 888-747-5273
100+
State-of-the-Art Lasers and Devices
Emergency Appointments Available
50+
Highly Trained Providers
50+
Multi-specialty office locations for patients' convenience