Liposonix Bayside, Queens
LIPOSONIX BAYSIDE, QUEENS
Diet and exercise don't always do a thorough job of slimming your body down. You may be in this frustrating predicament now, with the scale showing your weight loss but not so much your body. You may be considering a cosmetic procedure to remove that last stubborn section of fat. Plastic surgery has corrected such concerns for many years, but it is costly, invasive, and requires significant downtime. Nowadays, minimally-invasive fat removal techniques can eliminate fat that has resisted all your hard diet and exercise efforts. Compared to plastic surgery, minimally-invasive fat removal is cheaper, does not involve incisions, and requires minimal to no downtime after treatment.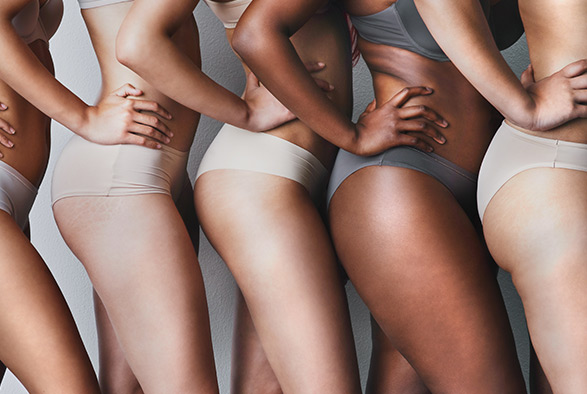 Liposonix is a minimally-invasive treatment that uses high-intensity focused ultrasound to destroy excess fat cells. Once the fat has been eliminated, the body is slimmed down to a contour that is more representative of your weight loss efforts. One hour-long Liposonix treatment can reduce your waistline by as much as an inch, which translates to roughly one full dress or pant size. To find out if you qualify for this exciting treatment, you will need to consult with one of our Bayside dermatologists.
During your consultation, your dermatologist will examine you and review your medical history. To qualify for Liposonix, your dermatologist will need to verify that you are at or close to your ideal weight, with stubborn fat on your abdomen, waist, and/or love handles. If Liposonix can help you achieve your weight loss goals, your treatment will be scheduled.
Thanks to its minimally-invasive nature, Liposonix is performed in the comfort of our Bayside, Queens, office. Your dermatologist will use a surgical pen to mark the areas to be treated and will then pass the device across those areas. During Liposonix, let your dermatologist know if you are experiencing any discomfort, as the intensity of the treatment may be adjusted. After Liposonix, you are able to immediately return to work.
After Liposonix, you may experience temporary swelling, bruising, or redness. Over the next three months, your waistline will slim as the body gets rid of the fat destroyed during treatment. To maintain your results, it is important to continue following an exercise and diet routine even after Liposonix.
If you are considering non-invasive fat removal, Liposonix may be right for you. Contact us today at 718-464-0109 to schedule your consultation. We look forward to meeting you.
ADDITIONAL LIPOSONIX LOCATIONS
For the convenience of patients outside of Briarcliff Manor, we also offer Liposonix elsewhere in New York and New Jersey:
We Pride ourselves
on Patient Accessibility
With 50+ locations conveniently located throughout New York City and New Jersey, a top-rated dermatologist is just around the corner. Click below to find the office nearest you!
FOR MEDICAL APPOINTMENTS CALL 888-747-5273
100+
State-of-the-Art Lasers and Devices
Emergency Appointments Available
50+
Highly Trained Providers
50+
Multi-specialty office locations for patients' convenience