miraDry®
For a consult please call our cosmetic concierge at 1-855-793-2868
miraDry is for EVERYONE*…miraDry is for YOU
Are you embarrassed by your underarm sweating? Does it interfere with your daily activities? Do you constantly re-apply antiperspirant? Are you tired of sweat stains ruining your clothing? Do you avoid clothing that may show sweat stains? Are you worried that others may notice your sweating? If you answered "yes" to any of these questions, miraDry may be right for you.
What is miraDry?
miraDry is an innovative, non-invasive treatment that effectively treats underarm sweating without surgery. It utilizes electromagnetic energy to eliminate underarm sweat glands. It is an FDA-approved device and the procedure is performed in your doctor's office.  A local anesthetic is administered to the underarm with minimally invasive injections for comfort.  The procedure uses precisely controlled energy.  The results are long-lasting as sweat glands do not regenerate. The miraDry procedure typically lasts about an hour, resulting in 82% reduction in sweating after two treatments. miraDry is associated with minimal to no downtime and patients may resume their daily activities on the same day of treatment.
Other treatments for excessive sweating include prescription antiperspirants or BOTOX injections, which only temporarily stop the sweat glands. Both of these options need to be repeated regularly, which can be costly. The only other permanent option to treat sweating involves surgery, which is risky and may exclude many individuals.
Am I a candidate for miraDry?
You may be a candidate for miraDry if you are 18 years of age or older and suffer from underarm sweating. Candidates also must be in good overall health. A consultation with your dermatologist will be necessary to determine whether miraDry is right for you.
Steps of the Procedure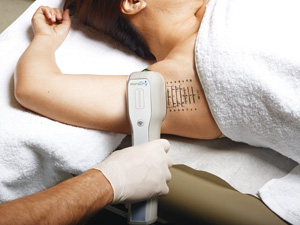 1. Mark the treatment area
2. Numb the underarm
3. Treat the area with miraDry
4. Enjoy the new sweat-free you!
Videos
Advanced Dermatology's miraDry Patient Success Story (Dan B.)
miraDry Treatment Overview Video
miraDry: How It Works  (Animated Video)
For a consult please call our cosmetic concierge at 1-855-793-2868