Liposonix in Ossining NY
LIPOSONIX IN OSSINING, NY
Nearly everyone has unwanted body fat. Even with a healthy diet and a rigorous exercise regimen, it is sometimes impossible to get rid of certain stubborn fat deposits, leaving many people searching for alternatives. While liposuction is not a realistic option for many people, the doctors at Advanced Dermatology offer an alternative solution. Completely non-invasive and free of any needles, Liposonix is just one of the remarkable solutions that have come from recent developments in medical science and technology. Liposonix utilizes ultrasound technology, which has been used safely for decades in the medical community, to deliver results to specified areas of the body. To learn more about this remarkable procedure, make an appointment to visit our office in Ossining, NY, where we serve patients from surrounding communities, including Briarcliff Manor, Armonk, White Plains, and Greenwich, CT.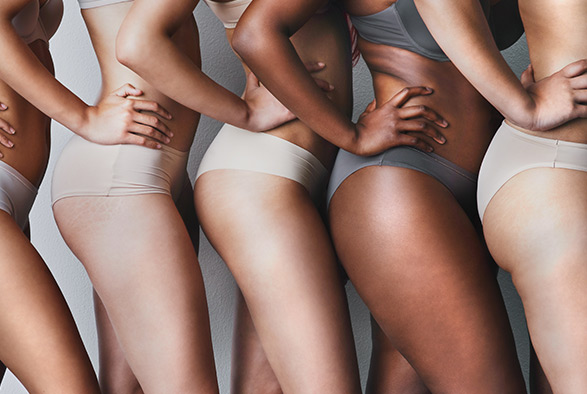 Liposonix delivers high-energy ultrasonic waves to fat deposits located just beneath the skin. Liposonix is commonly used on areas that are hard to trim by exercise alone, such as the love handles. When configured in a specific manner, ultrasound waves will vibrate soft tissues to gently heat them, thus breaking up and helping to dissolve stubborn fat deposits. In order to maintain the effectiveness of the Liposonix treatment, patients must maintain a healthy diet and exercise program. Liposonix is not designed to help patients lose weight – rather it is a complement to a healthy lifestyle and should be used to "spot treat" problem areas.
Liposonix is an extremely safe procedure and requires absolutely no anesthesia. The doctors at Advanced Dermatology PC will work with you to identify the areas that you'd like to address. The procedure takes about one hour and has zero downtime afterwards. You will be able to drive yourself home after the treatment. Side effects from the procedure are generally mild and harmless, including redness, minor swelling, or bruising. These side effects are expected to some extent, as the ultrasound waves must pass through the highly vascularized epidermis before entering the fatty dermal layers. These effects will fade quickly as your body mobilizes to remove the fat cells once they have been broken up by the treatment. Within several weeks you will see modest improvement in the targeted area, with full results being seen after several months.
It is important to have realistic expectations when considering any cosmetic procedure. Patients who believe in a "perfect" outcome or body shape do not understand the realities of cosmetic procedures, and will likely be dissatisfied with the results. Liposonix is an FDA approved method of addressing pockets of body fat, and will work on healthy individuals who wish to trim off excess body fat. Combined with diet and exercise, fat will stay gone for as long as biology will allow. With Liposonix and the continuing advances at Advanced Dermatology PC, we continue to provide you with all the tools necessary to help you look your best. Call today and schedule an appointment with one of our highly experienced, caring, and knowledgeable physicians.
ADDITIONAL LIPOSONIX LOCATIONS
For the convenience of patients outside of Briarcliff Manor, we also offer Liposonix elsewhere in New York and New Jersey:
We Pride ourselves
on Patient Accessibility
With 50+ locations conveniently located throughout New York City and New Jersey, a top-rated dermatologist is just around the corner. Click below to find the office nearest you!
FOR MEDICAL APPOINTMENTS CALL 888-747-5273
100+
State-of-the-Art Lasers and Devices
Emergency Appointments Available
50+
Highly Trained Providers
50+
Multi-specialty office locations for patients' convenience